August Monthly Insight    
Kimberly Hastings, August 1, 2022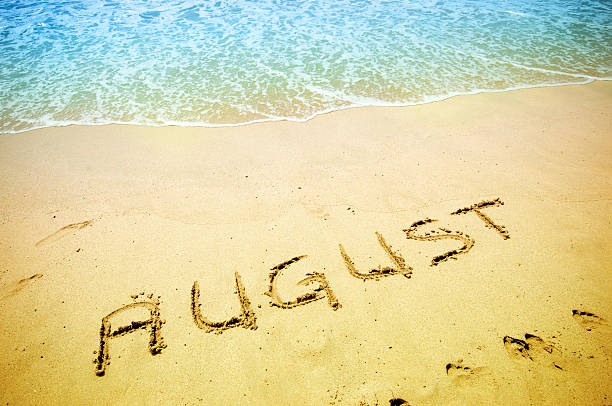 August comes from the Latin, Augustus. In 8 B,.C, the Roman Senate added the month of Augustus to honor the first Roman emperor, Augustus Ceasear. August was originally called Sextillis, Latin for "sixth month," as it was the sixth month on the Roman Calendar. 
August 1st is the celebration of  Lughnassdah or Lammas, which marks the midpoint between the summer solstice and the fall equinox. In early Ireland, it was considered bad luck to harvest the grains before Lammas and it marked the day when the first loaves of bread of the season were baked.  In other cultures, Lughnasad honors the Celtic god of craftsmanship, Lugh. Lugh was skilled in many trades including blacksmithing, wheel-making, and fighting. Lammas is the first harvest festival of the year and is a time for gathering, harvesting grains, giving thanks for abundance and enjoying the warmth and light that is still to come. Pagans celebrate Lammas by performing a harvest ritual. They decorate an altar with corn, grapes, apples and other crops, giving thanks for the harvest. They also bake breads and cakes and host a feast after the Harvest ritual.  As a tribute to Lugh, they make crafts and decorations representing his skills.
Leo continues to reign over us until August 22nd, when Virgo takes over. Leo allows us to be proud of who we are and what we have accomplished. Virgo reminds us that in order to accomplish our goals, we must be resourceful and dedicated to the task at hand. August's birthstones are peridot, sardonyx and spinel. Peridot was called "the gem of the Sun" by Ancient Egyptians and is believed to have strong healing powers. Sardonyx also has a rich history, as Roman soldiers would wear Sardonyx rings for protection in battle. Lastly, Spinel was often mistaken for Ruby and wasn't properly identified until the 18th century. Spinel is a wonderful crystal for inflammatory disease and eases anger while promoting harmony. The birth flowers for August are the Gladiolus and Poppy. The Gladiolus represents remembrance and integrity, while the red Poppy symbolizes pleasure, and the yellow poppy brings wealth and success. 
https://www.bpl.org/blogs/post/the-origins-and-practices-of-lammas-lughnasad/; https://www.gia.edu/birthstones/august-birthstones#:~:text=Sardonyx%20Birthstone%20Meaning%20%26%20History,or%20black%20layers%20of%20onyx.; https://www.naturallycolored.com/birthstones/august-birthstone; https://www.gia.edu/birthstones/august-birthstones#:~:text=The%20name%20%E2%80%9Cspinel%E2%80%9D%20comes%20from,was%20mistaken%20for%20other%20gemstones.; https://www.almanac.com/content/august-birth-flowers
Spiritual Uplifts Magical Moon for August
By Lynn Pritchard August 1, 2022
The full moon for August is called the Full Sturgeon Moon because this was the time of year that these giant fish of the Great Lakes and Lake Champlain were caught. The Native American tribes Algonquin and Ojibwe called this the "Corn Moon," while the Dakota tribe referred to this moon as the "Harvest Moon," as this was the time of year to gather crops for the year.
This will be the last Supermoon of the year! A Supermoon occurs when the moon is at its fullest and is closet to the Earth's orbit. As with the previous Supermoons, this full moon will be exceptionally powerful and intense and any ritual performed during the full moon will amplify your intentions.
 Moon Phase   Date & Time of Day
First Quarter: August 5th 7:07 AM EST
Full Moon: August 11th 9:36 PM EST
Last Quarter: August 19th12:36 AM EST
New Moon: August 27th 4:16 AM EST
Full Moon Lammas Harvest Ritual
This ritual gives thanks to Mother Earth for the bounty she provides us and the abundance we receive.
You will need the following:
White sage with sunflower;                             One Citrine or Tiger's Eye crystal.
Two white candles;                                            Grapes, Apples or any type of fruit
One Mother candle:                                          Bread
First, cleanse your space using the white sage and sunflower mix. This bundle removes negativity, while welcoming abundance and prosperity. For an additional boost, spray Ritual Mist to prepare your altar for the ritual.
Next, set up your altar by first placing the two white candle at the top of your altar, one on the left and the other on the right, with the Mother Candle in the middle. Place your crystal furthest to the left end of the altar. Citrine brings us success in all aspects of life, and encourages us to share our bounty with others.  Tiger's Eye allows us to attract abundance by expressing gratitude for what we already have.  Lastly, place your fruit and bread furthest to the right end of your altar.
Light your white candles to call in your protection. When you light the Mother candle, give thanks for all the Mother Earth provides us and say the following:
"I honor the cycle of rebirth and regrowth,
I am thankful for the lessons I have learned,
I share my bounty as thanks for all I have received,
So mode it be."
When you are finished, eat your bread and your fruit. Take your crystal and carry it with you. 
Spiritual Uplifts Monthly Study
  Amanda Dublo August 1, 2022
Book: Pocket Guide to Spirit Animals by Dr. Steven Farmer. When animals come to you in unusual ways or repeatedly, they are serving as spirit guides attempting to get a message to you. This convenient pocket guide will help you understand and discern these messages whenever this occurs by offering several possible interpretations for the animal you encounter.
Oil: Lemongrass. Lemongrass oil helps deter pests, and eases headaches and stomach issues. The cleansing properties of lemongrass makes it a wonderful oil to use in deodorants and soaps. https://jacanswers.com/what-is-a-blended-essence/
**This oil may interact with certain drugs, can cause skin sensitization, and is potentially teratogenic. Avoid while pregnant. Keep away from children and pets.
**This information has not been evaluated by the Food and Drug Administration. This product is not intended to diagnose, treat, cure, or prevent any disease. For educational purposes only. We recommend that you consult with a qualified healthcare practitioner before using herbal products, particularly if you are pregnant, nursing, or on any medications.
Herb: Feverfew: Treats fevers, migraine headaches, and problems with menstruation. Eases symptoms of rheumatoid arthritis, soothes stomach aches, toothaches, and insect bites.  https://www.ncbi.nlm.nih.gov/pmc/articles/PMC3210009/
**Not for use during pregnancy.
**This information has not been evaluated by the Food and Drug Administration. This product is not intended to diagnose, treat, cure, or prevent any disease. For educational purposes only. We recommend that you consult with a qualified healthcare practitioner before using herbal products, particularly if you are pregnant, nursing, or on any medications.
Crystal: Turritella Agate: This agate is associated with your personal roots, ancestry, and past lives. It has the energies of grounding, strength, and protection. Helps with healing, wealth, inner stability, and self-confidence. For travelers, it will protect you from danger and keep you close to your loved ones at home. Removes fears and sharpens intuition.
All Spiritual Uplifts Essential oils and herbs are certified organic.  All crystals are handpicked and purchased by licensed vendors.
Spiritual Uplifts Monthly Grid
  Crystal Grid for Gratitude

                                                        By Amanda Dublo August 1, 2022.
Step 1: Begin by setting intentions of connecting with your higher consciousness through meditation.
Step 2: Burn sage or Palo Santo to cleanse the energy in your space.
Step 3: Place a crystal generator of your choice in the center of your grid. Light colored crystals like Clear Quartz are preferred.
Step 4: Using a cloth or wood grid, create two diagonal lines forming a "X" around the generator using the crystals below.
Botswana Agate: This is an excellent stone for grounding and bringing the emotional, physical, and intellectual into balance. It soothes anyone who doubts themselves or their abilities and builds back their self-confidence. Emotionally, it aids in conquering negativity and sadness from heartache or hurt, while also giving a person the courage to start over.
Carnelian: This crystal is terrific for restoring vitality and motivation. It helps us to except the cycle of life and lessens fear. Carnelian can help you trust in yourself, along with the decisions you make. It brings about courage and can help reduce or stop feelings of envy, rage, anger, and resentment.
Citrine: This stone of great abundance can attract wealth, prosperity, and success in all aspects of life. It encourages the sharing of wealth and good fortune without allowing others to take advantage of your kindness and generosity. This crystal boosts motivation and helps you to embrace a positive attitude in life.
Clear Quartz: Clear Quartz is a powerful healer and amplifier of energy. It promotes mental clarity and emotional stability and restores balance both spiritually and bodily. It is associated with the Crown Chakra, which is about higher consciousness and leads you to a deeper sense of spirituality.
Green Moss Agate: Known as "The Gardener's Stone", it is a useful crystal for boosting plant growth. It has a strong relationship with nature spirits and can attract prosperity and abundance. It can help you tune into the energies in your garden or field of crops. This stone can be hung from tree branches, buried in pots, or set on the ground to help support a healthy and plentiful harvest.
Moonstone: Moonstone has a comforting energy that can boost the growth of plants, trees, and flowers. This stone is also known as the "Stone of New Beginnings", and its energy reminds us that everything is part of the ever-changing cycle of life.
Step 5: Speak out loud your intentions to activate your grid.
Crystals and grid pads sold at Spiritual Uplifts
Spiritualuplifts.com
Crystal Light Bed and Bio-Mat
Heals: Emotional blockages, headaches, negative thinking, helps with blood pressure, joint pain, weight loss, decrease stress & fatigue…and much more.
Call to set your appointment today.
Sessions: 1/2 hour/$45.00, 1 hour/$80.00
Discount packages: 
Video Aura Camera
This aura camera is high tech featuring Aura color analysis and bio-feed back, which focuses on your physical and spiritual well-being. It will show any blockages and personality traits. Knowing only your base Aura color gives you an in-depth look into your core beliefs, physical, emotional, mental and spiritual behaviors and patterns.
Numerology
Kimberly Hastings August 1, 2022
August 2022 is a 5 Universal Month, bringing us the energy of change and transformation. Most of us are resistant to changes in our routines and habits, but adjustments must be made to continue our growth. This month we will be challenged to go outside our comfort zones and embrace the unknown. Change is essential and it is how we deal with life's transitions that defines us. Taking a leaf of faith and trying something new can result in positive results.
Additionally, as August is the eighth month of the year, we have the additional energy of leadership, abundance, and success. By stepping up and taking more responsibility, we can control the outcome of a situation, which leads to overall success. It can also lead to recognition by those who matter most to us, such as a boss, a spouse, a parent, etc.
We've been working hard over the past few months, and it always feels great when others acknowledge the work we have done and the sacrifices we have made. Remember that no accomplishment is too small to celebrate-each step we complete brings us one step closer to achieving our end goals.
Monthly Horoscope-August 2022
Aries: Embrace spontaneity but maintain caution when it comes to matters of the heart.
Taurus: Focusing on small improvements in your life will make you feel less chaotic.
Gemini: Money is the focus this month. Getting a handle on your finances will ease any anxiety.
Cancer: Learn to forgive yourself. The lesson learned are essential for your future growth.
Leo:. Your health is of the upmost importance. Be sure to take time to recharge.
Virgo: This is a time for self-reflection. Assess your limitations and make them work for you.
Libra: Time to explore what life has to offer and plant the seeds for future aspirations.
Scorpio: Recognition for all your efforts not only brings the confidence to set higher goals, but to also take on more responsibility. 
Sagittarius: Higher knowledge and spiritual growth opportunities are abundant if you are patient and willing to listen.
Capricorn:. Lack of confidence will hinder your progress. Focus on activities that bring you happiness. 
Aquarius: Be aware of potential threats to your progress by focusing on your personal relationships.
Pisces: Selfless giving to others will reap rewards.  
Mercury in Retrograde 2022
January 13 to February 3 
May 10 to June 2
September 9 to October 1
December 28 to January 18 (2023)
What to do when Mercury is in Retrograde.  The planet Mercury rules communication, travel, contracts, automobiles, and such.  This type of influence depends on your zodiac.
Aries: Reconfiguration of workplace relationships
Taurus: Issues with relationships.
Gemini: Un-clear real-estate.
Cancer: Misunderstandings in relationships.
Leo: This is a period for revisiting some issues with money.
Virgo: Redefine your own personality, to rediscover a new way.
Libra: You will feel like you need to isolate yourself.
Scorpio: Avoid complaints from superiors.  
Sagittarius: Before you make decisions think of the consequences.
Capricorn: Revise education at this time.
Aquarius: Pay attention to financial agreements.
Pisces: Be cautious, Ex-partners return.
Daily and Weekly Horoscopes
"Enjoy, feel good and live for today"